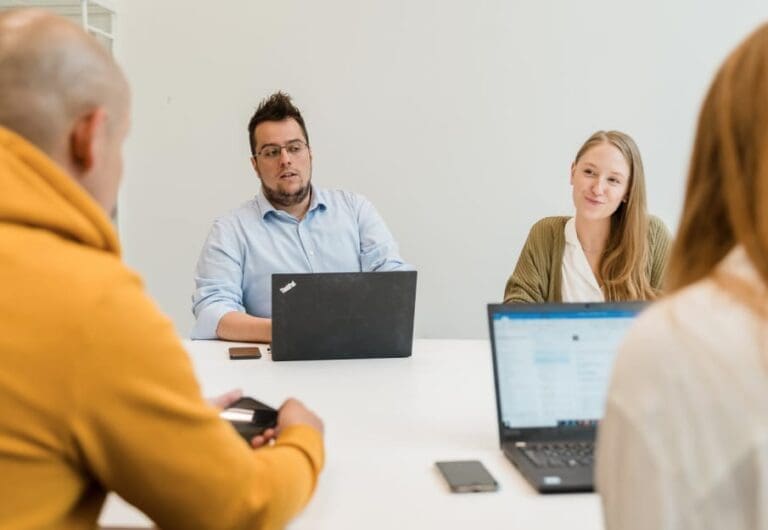 Head of Marketing – Canada (m/f/d)
When applying for this position, you will have the opportunity to indicate your preferred work location from the following:
Remote Canada, Fredericton, Canada
Grow with us – start your career at IU now!
Join our Canadian Go-to-Market team in full-time (40 hrs./week) as Head of Marketing – Canada (m/f/d) at our location in Fredericton or remotely with a preference for New Brunswick or Toronto.
Your tasks
You own the marketing for the University of Fredericton (UFred) for the Canadian market from first touch of the user to becoming a student.

You define the marketing strategy and measures across channels throughout the customer acquisition funnel.

You collaborate with content and creative marketing teams to deliver outstanding customer experiences through personalized marketing communications.

You manage cross-functional integrated campaigns to ensure aligned execution and competitive positioning across all channels to reach an addressable market.

You oversee all demand generation activities, including search engine optimization, search engine marketing/ppc, social, email marketing, webinars, events, etc.

You develop brand strategy and operationalize integrated, multi-channel brand campaigns to drive awareness, consideration and conversion.

You recruit, mentor, and manage a high-performance marketing team in addition to managing external vendors and budget to accomplish the company's growth goals.

You identify and prioritise initiatives based on data to drive growth. 

You closely collaborate with other teams and units (e.g. sales, product, etc.) to set goals, benchmarks, and OKRs for driving intake and customer lifecycle marketing programs. 
Your Profile
Successfully completed university degree in marketing, business, economics or a related field. 

6+ years of management experience with focus on marketing in a dynamic environment (e.g. startups, high-growth companies, consulting). 

Experience growing and leading a team, leveraging internal resources and external service providers where needed to implement marketing initiatives.  

Proven success as a data-centric, innovative, business-minded, highly strategic marketing or marketing technology executive.

Strong data competency, with ability to synthesize data and insights into succinct strategies and action plans.

Expertise in bringing cross-functional team members together to advance conversion and growth goals, and in helping other teams bring results through close collaboration.

Prior experience leading/owning product marketing, demand generation, or other GTM functions such as Sales or Customer Success.

Experience in a Canadian educational environment is an asset 
About us
Who are we? As an international private university group (including Germany's largest university – IU University and the University of Fredericton, a fully recognized degree granting institution in New Brunswick) we are not just an excellent choice for studying, but also an outstanding Great Place to Work®! As an edutech company, we rely on state-of-the-art technology and data-driven approaches. That's why AI-driven voice assistants and other GPT systems have long become part of our daily work routine, helping us to focus on exciting projects. Here at IU, over 4,000 employees are dedicated to making a difference. So start now and join the Gamechangers!
Sounds like the perfect job for you? Then apply now! Simple, fast and even without a cover letter.  If you have any further questions, please feel free to contact Bernhard Schneider at bernhard.schneider@iu.org.
Actions speak louder than words: We cherish our "Culture of Everyone" and would like to take this opportunity to emphasize that we do not tolerate discrimination on the basis of race, gender, age, sexual orientation or disability. We welcome you as you are and look forward to nurturing our diverse community at the IU!
Your personal contact
Bernhard Schneider
Senior Technical Recruiter
What we'll do for you
Design your ideal career and pathway
Explosive growth enables great opportunities. Tell us your dream career, and we will help you make it a reality.
Work from home, work from anywhere
We blur the lines between local and remote by embracing collaborative & video meeting technologies.
Flexible working times
It's your call. We trust you will get things done.
Up level your education
Enjoy free up-skilling courses, language courses & discounted degree courses. There is always something new to learn!
30 days annual vacation for everyone
We strive for greatness, but we all take time-off to recharge.
Enjoy our brand of social
We love spending time together. Whether it's yoga, team events, brown bag lunches or partying—there is something for everyone.
Almost every IU job can be full-time or part-time
Pick what suits you!
World's best colleagues
We give each other a leg-up when needed, and we collectively go beyond expectations.
Always connected
Our state-of-the-art IT infrastructure, tools, & methods empower us to collaborate and innovate from anywhere, anytime—with agility and speed.
About the team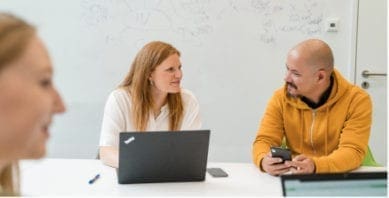 Marketing & Communications
We are the brand that is making a big difference. We agree that education is the solution to everything—advancing understanding, liberty, equality, and prosperity, for all to enjoy! We work with our teams and partners to ensure our promise reaches everyone who wants to have a better choice in life.

With 70,000+ enrolments we are already the biggest University of Applied Sciences in Germany. And, this is only the beginning!
Our core values
#1
Make collaboration standard practice.
We aim for the best solution as a team and have fun with it - without ego or politics.
#2
Be courageous and take risks.
We make courageous decisions and take calculated risks.
#3
Embrace innovation always.
We are always looking for ways to improve our offers for our customers.
#4
Strive for the empowerment of everyone.
We support each other's development to become the best version of ourselves.
#5
Adopt a growth mindset for scale.
We aim to improve ourselves in everything we do and work hard to do so every day.
#6
Focus on getting things done on time.
We implement things quickly, pragmatically, effectively and goal-oriented.
#7
Put customer focus first.
In everything we do, our customers come first.
Thank you for your application
We have received your application and are pleased that you are interested in working with us. Our recruiting team is now carefully reviewing your documents and will get back to you shortly.
Next steps
We'll contact you shortly
Marketing & Communications FAQs
To what extent is home office possible?
We love to support Home Office arrangements, but some positions naturally require employees to be on campus/in the office. During the pandemic everyone works from home or can work in the office after consultation.
How many days paid holiday will I get per year?
All employees working a 5 day week are entitled to 30 days paid holiday per year.
Why are there so many open positions at IU?
Good question! We are experiencing explosive growth as students flock to adopt our unique education methods. That's why we have become IU International University of Applied Sciences.
How flexible are the working hours at IU?
Working hours are naturally position dependent at IU but normally you can arrange them the way you want, together with your team and supervisor.
What is expected to be successful at IU?
We want team players that love to challenge conventional wisdom, and integrate with open-minded people who support each other within a flat hierarchy. If you like what you hear, then apply at
www.iu-careers.com/en/jobs
.
Can I apply for multiple jobs?
Of course you can! Make a separate application for each and we will work together to choose the one that fits you best.