Teamlead Conversion Optimization (m/f/d)
When applying for this position, you will have the opportunity to indicate your preferred work location from the following:
Remote Germany, Berlin, Hamburg, Munich
Grow with us – start your career at IU International University of Applied Sciences!
We are currently looking for a Teamlead Conversion Optimization (m/f/d) to join our team immediately in full-time. The role is remote or can be carried at one of our offices in Germany.
Your tasks
Lead and manage a team of CRO Managers, overseeing the development and execution of data-driven hypotheses and tests to increase online application and conversion rates

Define and implement the CRO strategy, ensuring alignment with the company's overall objectives and vision

Monitor and evaluate the performance of the CRO team, providing guidance, mentorship, and performance evaluations

Establish and maintain best practices for A/B testing, experimentation, and data-driven decision-making within the team

Drive continuous improvement in the CRO process, incorporating user-centered design methods and qualitative and quantitative research findings

Foster a culture of innovation and experimentation within the team, encouraging the development of new ideas and approaches to optimisation
Your Profile
At least 5 years of professional experience in CRO, A/B testing, and driving digital projects, with a minimum of 2 years in a leadership role

Strong knowledge of optimisation tools such as Optimizely, A/B Tasty, Hotjar, and Google Analytics

A deep understanding of user-centered design principles and their application to CRO

Familiarity with statistical concepts related to A/B testing, including Frequentist and Bayesian methods

Experience in front-end web design and development (HTML, CSS, and JavaScript/jQuery) is a plus

Experience with agile working methods, e.g., Scrum

Excellent communication skills in German and English, with the ability to effectively collaborate with cross-functional teams and present insights to senior management
We offer
Shape your career: Rapid growth opens up many new opportunities for you. Tell us about your dream career and we'll help you make it happen.

Work where you want …: Project management tools and video meetings make it possible: with us, the boundaries between here and there blur. You want to work from abroad for a while? No problem thanks to our WorkFlex benefits.

… and flexible time: It's your job: We trust you and give you the greatest possible freedom to organize yourself.

Take your knowledge to a new level: Benefit from free training, language courses and discounted study programs. With us, there is always something new to learn.

Get a good rest: We push ourselves every day to go above and beyond. But we also take the time to recharge our batteries: with 30 days of annual vacation for all employees. Need some time off? How about a sabbatical?
Become part of our Online & Performance Marketing team at Germany's largest university! Advertising and brand marketing are important investments for IU – they have to pay off. We are the team that achieves the best ROI.
Contact
You find yourself in this profile and are looking for a new challenge? Then apply online now via our career portal.
If you have any further questions, please feel free to contact Marina at marina.meissner@iu.org.
Words are followed by deeds: We take our "Culture Of Everyone" very seriously and would like to point out once again that you are welcome to join us, regardless of your origin, religion, gender, age or sexual orientation. Even if you have a disability, our doors are open to you. We look forward to a diverse coexistence here at the IU!
Your personal contact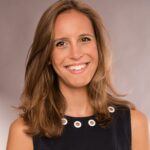 Marina Meißner
Trainee Tech Recruiting
What we'll do for you
Design your ideal career and pathway
Explosive growth enables great opportunities. Tell us your dream career, and we will help you make it a reality.
Work from home, work from anywhere
We blur the lines between local and remote by embracing collaborative & video meeting technologies.
Flexible working times
It's your call. We trust you will get things done.
Up level your education
Enjoy free up-skilling courses, language courses & discounted degree courses. There is always something new to learn!
30 days annual vacation for everyone
We strive for greatness, but we all take time-off to recharge.
Enjoy our brand of social
We love spending time together. Whether it's yoga, team events, brown bag lunches or partying—there is something for everyone.
Almost every IU job can be full-time or part-time
Pick what suits you!
World's best colleagues
We give each other a leg-up when needed, and we collectively go beyond expectations.
Always connected
Our state-of-the-art IT infrastructure, tools, & methods empower us to collaborate and innovate from anywhere, anytime—with agility and speed.
The location
Remote Germany
With our positions, you don't have to decide where to work. Whether you want to work from home, at one of our offices across Germany or up to six months abroad. Enjoy maximum flexibility!
About the team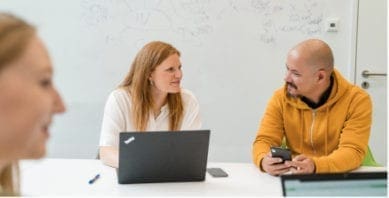 Marketing & Communications
We are the brand that is making a big difference. We agree that education is the solution to everything—advancing understanding, liberty, equality, and prosperity, for all to enjoy! We work with our teams and partners to ensure our promise reaches everyone who wants to have a better choice in life.

With 70,000+ enrolments we are already the biggest University of Applied Sciences in Germany. And, this is only the beginning!
Our core values
#1
Make collaboration standard practice.
We aim for the best solution as a team and have fun with it - without ego or politics.
#2
Be courageous and take risks.
We make courageous decisions and take calculated risks.
#3
Embrace innovation always.
We are always looking for ways to improve our offers for our customers.
#4
Strive for the empowerment of everyone.
We support each other's development to become the best version of ourselves.
#5
Adopt a growth mindset for scale.
We aim to improve ourselves in everything we do and work hard to do so every day.
#6
Focus on getting things done on time.
We implement things quickly, pragmatically, effectively and goal-oriented.
#7
Put customer focus first.
In everything we do, our customers come first.
Thank you for your application
We have received your application and are pleased that you are interested in working with us. Our recruiting team is now carefully reviewing your documents and will get back to you shortly.
Next steps
We'll contact you shortly
Marketing & Communications FAQs
To what extent is home office possible?
We love to support Home Office arrangements, but some positions naturally require employees to be on campus/in the office. During the pandemic everyone works from home or can work in the office after consultation.
How many days paid holiday will I get per year?
All employees working a 5 day week are entitled to 30 days paid holiday per year.
Why are there so many open positions at IU?
Good question! We are experiencing explosive growth as students flock to adopt our unique education methods. That's why we have become IU International University of Applied Sciences.
How flexible are the working hours at IU?
Working hours are naturally position dependent at IU but normally you can arrange them the way you want, together with your team and supervisor.
What is expected to be successful at IU?
We want team players that love to challenge conventional wisdom, and integrate with open-minded people who support each other within a flat hierarchy. If you like what you hear, then apply at
www.iu-careers.com/en/jobs
.
Can I apply for multiple jobs?
Of course you can! Make a separate application for each and we will work together to choose the one that fits you best.