When applying for this position, you will have the opportunity to indicate your preferred work location from the following:
Remote, Berlin, Munich
Since our foundation in 1998, IU International University has become the largest private university for online and dual study programmes in Europe. We offer more than 80 career-oriented Bachelor's & Master's degree programmes in various disciplines. These English- and German-language programmes are all accredited and state-recognised. As a pioneer in digital education, we continuously improve the learning experience of our students with the help of innovative technologies and consistently focus on their satisfaction. But it's only through our great team of entrepreneurial thinkers & doers that we achieve our ambitious goals and create consistently high growth of more than 50%.  
Join our communications team as Team Lead Community Manager (m/f/d) in Berlin, Munich or 100% remote (in Germany) as soon as possible.   
You are responsible for customer communication and reputation management in the area of online studies

Communication includes, in particular, crisis communication, communication of changes and responses to individual enquiries regarding qualitative topics

Therefore, you will be in close contact with the specialist departments and will delve deeply into qualitative and content-related topics  

You create and optimise processes, communication strategies and decide on necessary compensation measures to ensure swift and efficient coordination processes and proactive communication to our students  

As part of the reputation management and customer satisfaction, you identify students' pain points and promote qualitative measures and their communication  

You engage in exchange with critical students and create opportunities for them to give their feedback outside the publicly visible space
You have a successfully completed university degree

You have relevant experience in critical communication management and crisis communication  

You like to get deep and fast into different topics and have a very clear communication style  

You have a confident writing style on complex issues and can communicate complex issues in a clear and easy way  

You push decisions, have a high level of customer understanding and a very strong service mindset  

You have a talent in managing stakeholders and maintain an overview of many issues  

You have the necessary empathy, but also the determination to interact directly with challenging customers

You have experience with KPI's and evaluation processes

You have the language level of a native speaker in English, furthermore you have knowledge of the German language as an additional plus
Very flexible working hours, as well as the possibility to work remotely up to 100%

A challenging and responsible job in a strongly growing group of companies

Great and innovative products in a promising industry

A lot of creative freedom due to flat hierarchies

A very cooperative atmosphere with over 90% employee satisfaction

Very good development opportunities in a strongly growing company

30 days of holiday, internal training opportunities, employee discounts and cooperations
Do you see yourself in this profile and are you looking for a new challenge? Then apply online now.  
If you have any questions, please do not hesitate to contact Josephine Lindner at josephine.lindner@iu.org
Your personal contact
Josephine Lindner
Recruiterin
What we'll do for you
Design your ideal career and pathway
Explosive growth enables great opportunities. Tell us your dream career, and we will help you make it a reality.
Work from home, work from anywhere
We blur the lines between local and remote by embracing collaborative & video meeting technologies.
Flexible working times
It's your call. We trust you will get things done.
Up level your education
Enjoy free up-skilling courses, language courses & discounted degree courses. There is always something new to learn!
30 days annual vacation for everyone
We strive for greatness, but we all take time-off to recharge.
Enjoy our brand of social
We love spending time together. Whether it's yoga, team events, brown bag lunches or partying—there is something for everyone.
Almost every IU job can be full-time or part-time
Pick what suits you!
World's best colleagues
We give each other a leg-up when needed, and we collectively go beyond expectations.
Always connected
Our state-of-the-art IT infrastructure, tools, & methods empower us to collaborate and innovate from anywhere, anytime—with agility and speed.
The location
Remote
We always try to make working from anywhere possible. But, it's not one or the other—you can work from the office when you want some real in-person time. We are as flexible as you want to be.
About the team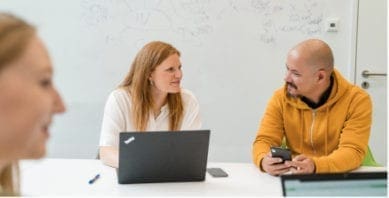 Marketing & Communications
We are the brand that is making a big difference. We agree that education is the solution to everything—advancing understanding, liberty, equality, and prosperity, for all to enjoy! We work with our teams and partners to ensure our promise reaches everyone who wants to have a better choice in life.

With 70,000+ enrolments we are already the biggest University of Applied Science in Germany. And, this is only the beginning!
Our core values
#1
Make collaboration standard practice.
We aim for the best solution as a team and have fun with it - without ego or politics.
#2
Be courageous and take risks.
We make courageous decisions and take calculated risks.
#3
Embrace innovation always.
We are always looking for ways to improve our offers for our customers.
#4
Strive for the empowerment of everyone.
We support each other's development to become the best version of ourselves.
#5
Adopt a growth mindset for scale.
We aim to improve ourselves in everything we do and work hard to do so every day.
#6
Focus on getting things done on time.
We implement things quickly, pragmatically, effectively and goal-oriented.
#7
Put customer focus first.
In everything we do, our customers come first.
Marketing & Communications FAQs
To what extent is home office possible?
We love to support Home Office arrangements, but some positions naturally require employees to be on campus/in the office. During the pandemic everyone works from home or can work in the office after consultation.
How many days paid holiday will I get per year?
All employees working a 5 day week are entitled to 30 days paid holiday per year.
Why are there so many open positions at IU?
Good question! We are experiencing explosive growth as students flock to adopt our unique education methods. That's why we have become IU International University of Applied Sciences.
How flexible are the working hours at IU?
Working hours are naturally position dependent at IU but normally you can arrange them the way you want, together with your team and supervisor.
What is expected to be successful at IU?
We want team players that love to challenge conventional wisdom, and integrate with open-minded people who support each other within a flat hierarchy. If you like what you hear, then apply at
www.iu-careers.com/en/jobs
.
Can I apply for multiple jobs?
Of course you can! Make a separate application for each and we will work together to choose the one that fits you best.